"Amarcord", Lin Yu-Ju [Taiwan]
The late Italian director Fellini invented a word of his own-Amarcord- which means "I Remember".
'I remember the beautiful past. I will always carry it which me as a life companion, and share it with those who always have story to tell.'
Having premiered in the Experimental Theatre, of the National Theatre and Concert Hall in 2010, "Amarcord" is a piece which reflects the importance of memories in our lives, in our history and the feeling of how they connect people together. It stems from a give-and-take relationship that is fundamental to all interactions. Through this relationship, people can move, guide, complement or mirror each other.
Choreography: Yu-Ju Lin
Dancers: Zong-lin Li, Bo-ling Pan
Music: Ravel "Pavane pour une infante defunte", Tomas Mendez "Cucurrucucu Paloma"
Duration: 18-19 min
---

"Esperanza", Bea Debrabant [France/Belgium]
Bea Debrabant has developed an unusual dance style melting explosive body movements and a great fluidity, testing her body's flexibility to follow her into a musical quest. Inspired by Tai Chi, she is always playing with the balance between vivacity and softness. Her work "Esperanza" embodies this movement style and the complexity of her art. With a profound research of movement quality, one can follow the different energies and the stories portrayed to us. 'She stands still, she moves forward, she turns around herself. Is it balance or illusion?'
Choreography/Dancer: Bea Debrabant
Music: Armand Amar: "Tristesse"; Ghazal chakeri: "The song of the red dervish"; Miguel Poveda: "Bulerias de Jerez"
Duration: 9 min 26 sec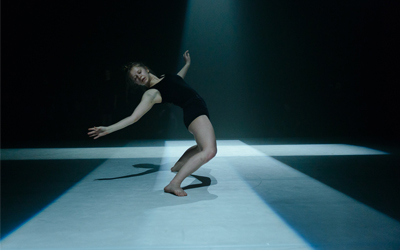 "Make The Switch From Me" Aura Dance Theater [Lithuania]
This work presented as a solo for Dance Bridges Festival investigates our daily research of the word 'copula' meaning 'with yourself, with the other, with God'. It is about how we are controlled by stronger powers and constraints. In this era, the value of a human being is determined not by us, but by the system which we either match or don't. It also demonstrates how we always balance on a very thin line between light and darkness. But a human-being can always choose whether to keep balancing or step onto the stable ground of his virtues, to surrender to oppressions or to overcome temptations. In 2015 AURA Dance Theatre was awarded with the 'Fortune statuette' by Kaunas Theatre Alliance For the work "Make the Switch From Me".
Choreography: Birutė Letukaitė
Dancer: Clara Giambino (France), Ema Senkuvienė (Lithuania), Haruka Suzuki (Japan), Marine Fernandez (France), Mei Chen (China)
Music: Antanas Jasenka
Duration: 12 min

"The Empty Room", Ido Tadmor [Israel]
"The Empty Room" is a clever combination of different disciplines-dance, voice and theatre- guide the audience through the life time story of a couple. This piece both comic and dramatic, highlights the struggles of the everyday life and the fear that comes with love. To celebrate thirty years of his international career, Ido Tadmor proposed this hilarious, fresh and colorful piece that has enchanted  audiences around the world.
Choreography: Ido Tadmor
Dancer: Ido Tadmor, Mira Rubinstein
Music: Mozart, Puccini
Duration: 19 min

"Lidy (Self-immolation)" Fóramen M. Ballet [Mexico]
The assembly of this work was conceived as a necessity to give support to the contemporary human being: by creating choreographic struc- tures and generating struggle against the ego. This piece allows the body to ow freely inside movement metaphors: giving rise to speed, vertigo, nonsense and the unexpected. The sequence of images and scenes in this work is in direct correspondence to the experiences re- lated to the 'self', the others and to the passage through the spaces of post-modern life. With only one body, only one self, the ego mostly perishes through the real action of dancing/being, so that in the end, it surrenders to the will of desire.
Choreography: Marcos A. Rossi
Dancer: Gina Elisa Ancona, Silvia Mohedano, Alberto Hiromoto
Music: Federico Valdez
Duration: 10 min

"Red Dress Waali Ladki", Diya Naidu [India]
In her voluminous red dress Diya Naidu embodies strong female characters to relate their urban life experiences and the current struggles of wanting to be a liberated woman in modern India. She uses anecdotes, real life narratives and text woven together with guttural physical movement to portray this. She delves into the conflicting situation of Indian women where circumstances create a sense of liberation and suppression at the same time.  The piece highlights the apathetic response of the urban Indian man to the plight of women in their country – a situation they often do not see a problem concerning them.
Choreography/Dancer: Diya Naidu
Music: Voice/Text
Duration: 10 min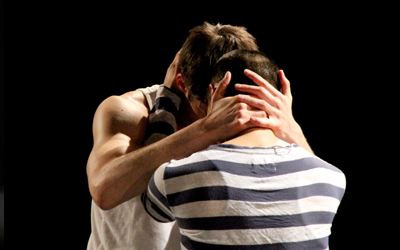 "Under This Weight (Duo)", Van Huynh Company [UK]
Under this weight (Duet) is part of Dam Van Huynh's series of works in which he explores the many facets of the self: the physical form and the fragile self, stripped of inhibitions. This work sees a shift in the artist's choreographic language delving into universally shared themes on the human condition. This striking piece exposes human reactions when under pressure through expressionistic gestures and emotional form, be it a mental or physical pressure: endurance, resistance, surrender. The work displays a continuous shift between equal forces crea- ting an intense and surreal atmosphere.
Choreography: Dam Van Huynh
Dancers: Ieva Navickaite, Tommaso Petrolo
Music: Martyna Poznańska
Duration: 23 min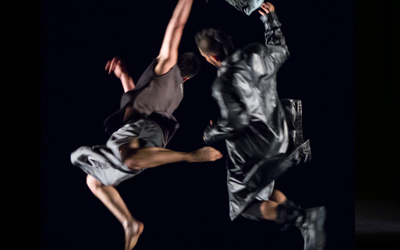 "Gestoanimal", Fóramen M. Ballet [Mexico]
The organic and instinctive movement motivate the dancers to move from impulses and inertia creating new spaces and atmospheres: an animalistic non-re ective discourse in which the characters follow chase and hunt each other. What happens when an animal is connec- ted to body-sensors? What could happen with the energy that emerges from the animal movement? Where can we situate the cyborg metaphor?
Choreography: Marco A. Rossi
Dancers: Gina Ancona, Silvia Mohedano, Mariana García Colín, Gerardo Sánchez y Alberto Hiromoto
Music: Galo Gonzalez
Duration: 18 min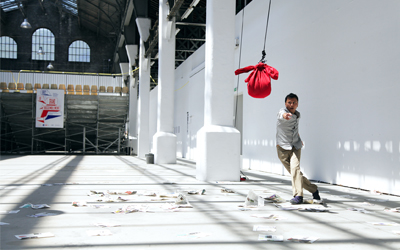 "The Dance Without a Name", Surjit Nongmeikapam [India]
This work is an exploration from Surjit's previous choreographic works. In "The Dance Without a Name", the audience will see the dancer playing with objects of different dimensions as well as improvising with sound impulses that create a whimsical yet dynamic atmosphere. Rather than focusing on the concept behind the piece the choreographer invites the audience into a experiential perfomative presentation with the element of live installation. The objects represent different characters to the dancer with emerging images of people, incidents and memories in a poetic and engaging solo performance.
.
Choreography/Dancer: Surjit Nongmeikapam
Music: Sound Installations
Duration: 10 min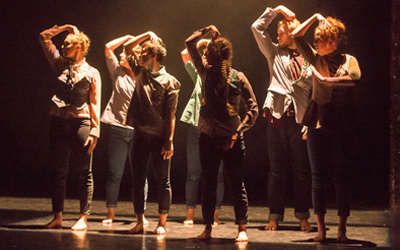 "Maelstrom", National Youth Dance Company of Scotland (NYDCS) [UK]
This piece examines the invisible invasions we all live with in this media driven, online obsessed world we are living in. How much control do we have on what is imprinting on us, how is this overloading us and what is seeping in, unconsiously or consiously, interrupting our human interactions and relationships, causing growth or destruction?
Choreography: Anna Kenrick
Dancers: Katelyn Bedford, Jennifer Bruce, Andrea Callaghan, Eleana Charalambous, Clara Cowen, Alex Crisp, Antonia Giomi, Taylor Han,
Alan Hunte, Rachel Laird, Adam McArtney and Corrie McKenzie
Music: Original score by David Paul Jones
Duration: 15 min

"DISCO" (short version), Teita Iwabuchi [Japan]
The concept for this choreographic solo is 'temptation'. The music seduces both the dancer and the audience and in turn this sense of seduction is also suggested in their responses to each other. Each part of this trio of sorts stimulates, engages and provokes a further reaction. We find the dancer seems to influence the music and audience, while similarly the audience affects the music and the dancer in this temptation and enticement. These three elements intertwine in the theater and space that is created by them.
Choreography/Dancer: Teita Iwabuchi
Video:  Hironobu Hosokawa
Music: Krewella "Party Monster", Gabriel Urbain Fauré "Pie Jesu"
Duration: 15 min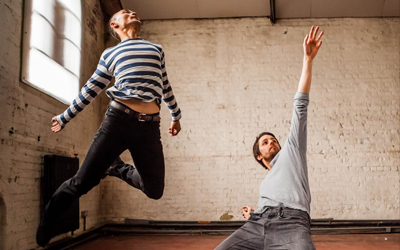 "Under This Weight (Falling)", Van Huynh Company [UK]
Under this weight (Falling) is an excerpt of a larger work where many of the participants from Dance Bridges Festival are able to share the stage together. This piece exposes human reactions when under pressure through expressionistic gestures and emotional form, be it a mental or physical pressure: endurance, resistance, surrender. The work displays a continuous shift between equal forces creating an intense and sur- real atmosphere
Choreography: Dam Van Huynh
Dancers: Festival Artists
Music: Martyna Poznańska
Duration: 7 min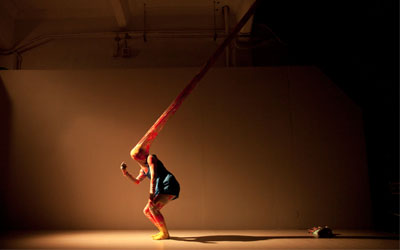 "Stem", Tien Hsiao-Tzu [Taiwan]
"Stem" reflects not only the security of "covering" and "veiling" oneself, but also the self-contradictory conflict of being fettered. Drawing from personal life experiences, the choreographer explores this contradiction being fully covered by floral-print fabric from head to toe. Moreover, through this image, the choreographer tries to discuss the mental state and physical behaviour when one is being watched.
Choreography/Dancer: Hsiao-Tzu Tien
Music: Rachmaninoff Piano Concerto No. 3 (Part 1)
Duration: 10 min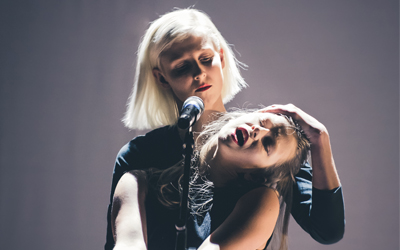 "Godos", Aura Dance Theater [Lithuania]
"Godos" is a two-part dance performance created by the Norwegian choreographers Anne Ekenes and Pia Holden (first part) and the famous Lithuanian choreographer Birutė Letukaitė (second part). It reveals the world where the past, the present and the future intertwine, where feminine sensuality, secret mythological creatures and futuristic visions meet. Dance Bridges Festival presents the first part of "Godos". Godos is an old Lithuanian word that is usually defined as wistful dreams, feelings, hopes, nostalgic thoughts and unfulfilled expectations. Some of the questions presented through this work reflect on, 'What is the importance of history to any individual? How does the past shape our identity? What does Godos mean today and how do we experience Godos?'
Choreography: Anne Ekenes, Pia Holden
Dancers: Clara Giambino (France), Ema Senkuvienė (Lithuania), Haruka Suzuki (Japan), Marine Fernandez (France), Mei Chen (China)
Music: Antanas Jasenka
Duration: 23 min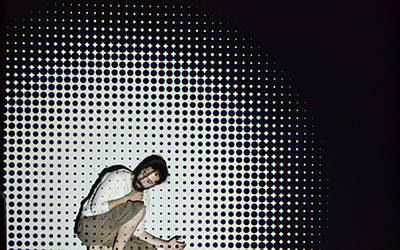 "The Augmented Body", Alfredo Miralles [Spain]
"The Augmented Body" is the scenic result of the encounter between dance and new technologies promoted by the Carlos III University of Madrid (Spain) and configures an engineering bachelor thesis. This dance solo seeks to establish dialogue between the two disciplines in a horizontal hierarchy, in which technologies are part of the poetry of the scene based on real-time interaction. In this piece, the Kinect sensor and the Processing programming is used to create interactive audiovisuals that are activated and transformed by the movement of the dancer.
Choreography/Dancer: Alfredo Miralles
Music/Voice: Antonio Dueñas "A piel de héroe"/Irene Gomez
Duration: 10 min
"Re|place (or the thing I miss most)", National Youth Dance Company of Scotland (NYDCS) [UK]
"Re|place" took the idea of spatial rearrangement as a starting point. It has an action and reaction quality that reminds us of our social interactions in everyday life. Based on our discussion in the studio and the fact that some of the company members have now moved away from home, the piece looks at forms of replacement, or even displacement, and the things you might miss as a result of moving away.
Choreography: Yael Flexer
Dancers: Katelyn Bedford, Jennifer Bruce, Andrea Callaghan, Eleana Charalambous, Clara Cowen, Alex Crisp, Antonia Giomi, Taylor Han,
Alan Hunte, Rachel Laird, Adam McArtney and Corrie McKenzie
Music: Karni Postel & Nic Sandiland (from Disappearing Acts), Through The Roof of Your Mouth by Ben Frost
Duration: 15 min