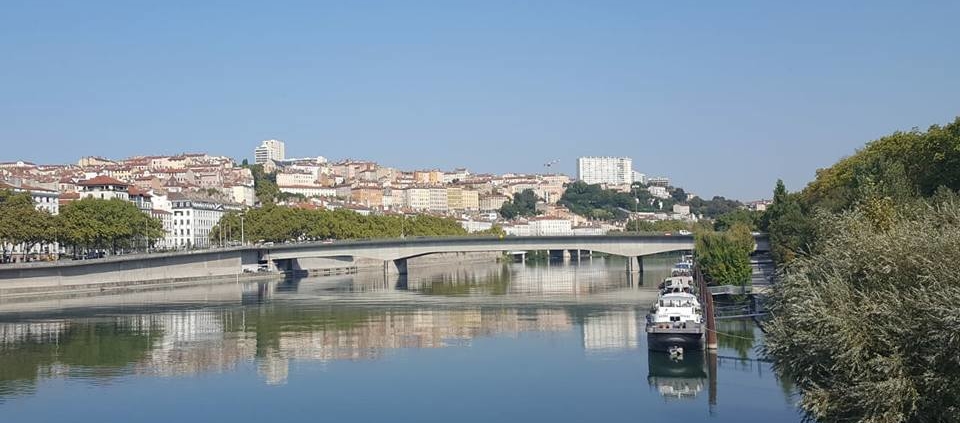 Encountering French Artists & the dance & art of Paris & Lyon
An article by Vanessa Maria Mirza, Founder-Director, Dance Bridges Festival, attending the Biennale de la Danse in Lyon and other performances and artist meetings in Paris.
'It was indeed a great delight for me to be invited as an international delegate for the 18th edition of the Biennale de la danse, Lyon supported by Institut Francais, ONDA and Maison de la Danse. I share here some of the highlights of my visit for a two-week period in Paris and Lyon. It has been a very enriching experience that has not only inspired me personally but also proved very useful in making connections to build future collaborations with Dance Bridges (Kolkata).
The Focus Danse and Biennale de la Danse was one of the best dance platforms/festivals I have seen so far. I appreciated that the performances were curated across a wide range of spaces and theatres and I got to see many different performance venues. It was the first time for me to see many well-known French choreographers like Jerome Bel and Maguy Marin but also I was glad to see work from many young emerging and mid-career artists. Both in Lyon and later in Paris, I was impressed by the broad concept of dance that was reflected in the performances I saw, the use of digital technology, staging and visual elements and also the amazing skills and abilities of the performers.
It was inspiring and intriguing at the same time. Rachid Ouramdance's work 'Franchir La nuit' performed at the Lyon Opera House was really beautiful, especially with the way he choreographed the piece using young dancers. Yoann Bourgeouis' 'Histories Naturalles 24 Tentatives, D'Approaches D'Un Point de Suspension' performed at Musee Guimet, was also stunning in the techniques used and ideas explored, woven within a
tightly knit choreography.
In Paris, I enjoyed very much watching Israel Galvan's brilliant 'Gatomaquia' (a flamenco solo performed in a circus tent and incorporating the Romanian gypsies from the circus into this version of the performance), Circe Plume 'La Derniere Saison' (a contemporary French circus in their last season performing with strong dramatic content, live music and exceptionally beautiful sets and lighting) and Maguy Marin's 'Cinderella' performed by the Lyon Opera-Ballet Company (eloquent and fascinating in her interpretation of the story and particularly with the use of masques). I was also able to watch a number of interesting works at the Les Plateaux Festival at Theatre Jean Vilar and at La Briqueterie by mostly emerging artists.
At the Dansathon which I was able to attend on the last day of the Biennale in Lyon, I saw some very exciting presentations. The participants engaged with dance and technology in new ways using augumented and virtual reality to bring dance closer to the wider public. The prize winning project was 'An Internet Connected Dance Space' where through a mobile app, dancers at different points of the globe could dance at the same time and share in an experience with the help of digital media. We also saw videos of the simultaneous process that has taken place in London and Liege.While I don't list all the names and artists here, I was able to watch about 26 different pieces through my visit, and it was absolutely fantastic for me both as an artist and programmer.
Through the weeks that followed both at the Biennale in Lyon and in Paris I was able to talk with many very interesting French and international choreographers and producers. It was lovely to see some artists who have been a part of Dance Bridges and some that we met at Aerowaves.
At the ONDA meetings I had the wonderful opportunity to be introduced to a number of artistic programmers from France and other countries that I was meeting for the very first time. The session I attended in Miribel on 'Dance in Public Spaces' was a very useful discussion to learn more about how other festivals and programmers have been working with artists in this area of performance in their own regions, while also getting know about many projects/artists who have interesting creations/research in this area. Later in Paris, I also had the pleasure of visiting the ONDA Office to meet with Regis Plaud to understand more about ONDA's work with performing arts and also exchange information about Dance Bridges and my own projects in India.
It was a special privilege for me to have visit and tour a few venues for dance creation and performance including Theatre de la Ville, Parc de la Villete, La Briqueterie and Centre National de Danse in Paris. It was exhilarating for me to learn more about how things operate at each of these spaces, but also understand more about the design, concept and planning that went into each of them. I had many interesting conversations on how they engage with
artists and the community.
A favourite part of my time in France as a visual artist and curator was being able to visit many art museums, galleries and exhibitions. I have a strong interest in the Impressionists and so was very glad to see many beautiful Impressionist paintings at the Musée de l'Orangerie and Musee Montmarttan Monet. I also enjoyed the contemporary art collections at Centre Georges Pompidou which is such a fascinating space and I loved the gorgeous views of Paris at sunset. I was able to visit Musee Jacquemarte-Andre with a new exhibition on the Italian painter Caravaggio that was really exquisite and the first of its kind in Paris. I also had special visit to Cite de la musique with a tour by Philippe Bruguière at the Musée de la musique, showing us the rare and beautiful collection of musical instruments. In Lyon I was able to visit of Museum of Art and was so enthralled by their fabulous collection of artwork and art objects.
This trip wouldn't have been possible without certain individuals taking an interest in the work I do and I would like to thank those who conceived and orchestrated this visit on very short notice. My deep gratitude to Claire Verlet, Alice Brunot & the Institut Francais team, Regis Plaud, Karthika Nair and Thomas Belus among many others for their kind and wonderful support in making this such a rich experience for me. I am truly changed by my time in France, and I know it will have a deep impact on my person and my artistic practice. Merci beaucoup!
https://dancebridges.in/wp-content/uploads/2018/11/42530775_1876808562372503_6770960884958232576_n.jpg
720
960
Vanessa Mirza
http://dancebridges.in/wp-content/uploads/2020/08/dblogo-black-Tagline-1030x189-4.png
Vanessa Mirza
2018-10-05 09:48:01
2018-12-14 10:43:04
Encountering French Artists & the dance & art of Paris & Lyon